Let the whisky adventure begin!
If you live in Croatia, February is probably the best month for anything whisky-related. In the upcoming days, there will be numerous tastings, workshops and of course socializing with my whisky friends, so when I got an email from the local whisky club about this monthly workshop called "A family affair", I was pretty excited. 
It usually starts at 7:00 pm and this time was no different but I got there fifteen minutes early and it was already full. I managed to find my seat and I noticed a lot of newcomers; we exchanged pleasantries and I had to ask them about coming to a whisky club. Beside generic answers, one person wanted to see if there was an actual reason for thirty people wanting to go to a monthly gathering. Anyway, our workshop started, and as you can tell by the pictures, it was about Glenfarclas.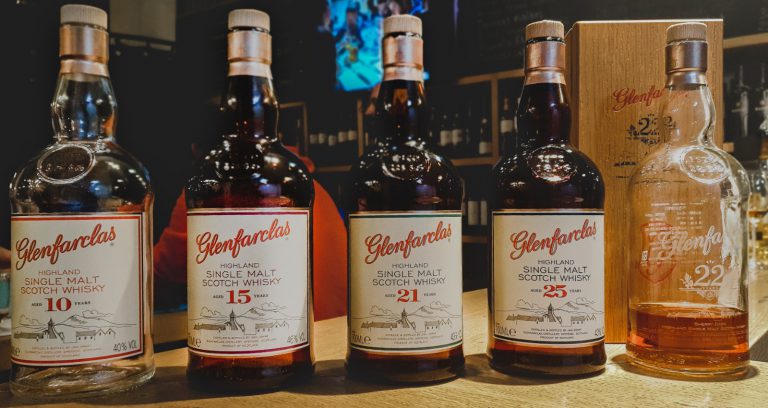 I'm not going to describe everything we heard because that's not the point of this article. However, a couple of interesting things that stood out to me were:
European oak is mainly used (Spain casks)
Direct-fired Stills are one of the largest in Scotland
Pattison parrots (you should google that, a nice interesting story)
Surprisingly low Angel's share is 0.05% per year.
Trivia fact: Glenfarclas is used in a new Guy Ritchie movie
If you ask whisky lovers around the world what one of the most reasonably priced official bottling distilleries is, they will most certainly say Glenfarclas; you can get a 25-year-old for  100-120 euros, which is ridiculous. The only similar distillery that comes to my mind is Knockando (if we're talking about 12, 15, 18 and 21YO).
My absolute winners are the 10-year-old one and the 25-year-old, but short tasting notes for the lineup are;
10-year-old (40% abv): on the nose, you get a smell of dried fruits and peaches with a bit of caramel. The palate is similar but it has a bit of an alcohol bite to it, spices and sherry influence. The finish is medium-dry with bittersweet feeling to it.
15-year-old (46% abv): on the nose, there are oranges, pineapple, chocolate, precisely chocolate chip cookies and of course sherry. The palate is fruity also with a lingering taste of chocolate throughout that goes into the finish with sweet grapes and a bit oakiness.
21-year-old (43% abv): the nose is leathery, with a bit of salt & pepper and caramel with liquorice (bronhi candy). The palate has a bit of vanilla and nuttiness to it and honey. The finish is that same caramel candy with a bit of hazelnut liqueur.
25-year-old (43% abv): on the nose, dried apricots, leather and fruity yoghurt with a bit of honey. The palate is creamy with dried fruits and wood. The finish is medium with roasted nuts and spices.
22-year-old Taiwan (45.7% abv): the nose has camphor, some dirtiness with waxy feeling, tobacco and coffee with a bit of plum. The palate reminds me of fisherman's friend with some berries. The finish is dry, and I mean incredibly dry with coffee and tobacco aftertaste.
After the workshop was done, more people brought out some interesting bottles to share. I managed to get a hold of the person whom I talked to earlier and he was completely sold on the monthly gatherings. He thought it was just going to be a bit of posh drinking, he didn't even have a clue that there were so many nuances between whiskies. Even though he's at the beginning of his whisky journey, he finally understands why people pay 20-30 euros a month to try something different to learn something from our presenters and do a blind tasting each time to see if it's worth your money and senses without any hype.
A couple of days later a few of us gathered at our friend's house and we welcomed our new friend from London. You could say this was a special occasion and we wanted to make sure this person had a good time and a good whisky. "Whisky is meant to be opened." or "Whisky is for drinking not for saving." are usually the phrases you can read on almost any whisky group on social media and I agree to some extent.
Sometimes you're just waiting for that special occasion, maybe you bought that bottle to sell it in 10 or 20 years, maybe you're trying to find another one so you can open the one you have, maybe you just like collecting bottles and admiring them; there are numerous reasons for you to not open "that" bottle.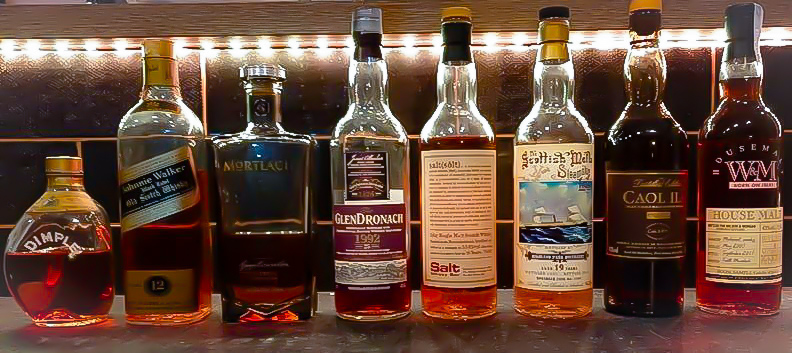 But from time to time you see your like-minded friends and they are also fascinated by this drink and you can talk with them for hours; about distillation, fermentation, cask maturing and terroir, yes even terroir.
I can't recall if I have ever had a bad time with them; time just flies and you can spend six or seven hours just talking and sipping whisky with wonderful people. I have to emphasize it's not about expensive bottles; it's about interesting bottles. The ones you find interesting and sharing that knowledge with others. As you can see in the second picture we had some interesting bottles (especially Bunnahabhain – bottled for Salt bar) and our friend from London gave us a bit more information about the bar and the bottle, which was fantastic. 
All these ramblings are my way of saying this: 
If you like whisky, ask around for your local whisky club, you'll meet wonderful people with the same passion. If there isn't one, gather your friends or family and open one of your bottles and let them try it, but let them try it without any prior information about the bottle to get an honest reaction and opinion. Looking back on my whisky journey I couldn't be happier – I got a chance to share this passion with my friends and I wouldn't trade it for any closed bottle I've had. 
Till next time, 
Drinkwater